Message
---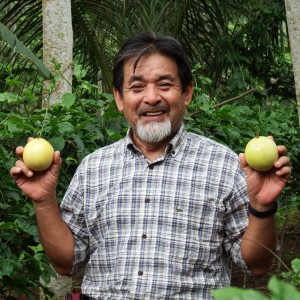 To deliver the REAL FRUIT FLAVOR all over the world… 
It was more than 40 years ago, I met my first Passion Fruit in Yakushima-Island. After the typhoon hits, there were many red-purple and egg-sized fruits all over the backyard. When I eat the fruits, the mellow flavor and wild sourness were spreads all over in my mouth. The wonderful impression of Passion Fruits I ate is the beginning of this journey.
Passion Fruit is already known as Juice and Perfume, but unfortunately, most of the product does not have real flavor and aroma. So I decided to tell people "How amazing the Passion Fruit is.." through our Passion Fruit products.
Even in origin countries, people dilute fresh fruit juice with water about 4-5times and even add sugar to adjust the sweetness. Our Passion Fruit Drink is made by only fresh passion fruit juice with granulated sugar(caster sugar), sterilized, and squeezed up in the bottle. You can enjoy our juices, dilute them with 4-5times, just the same as origin countries.
We keep going to deliver the wonderful REAL FRUIT FLAVOR and AROMA of Passion Fruit itself, without adding any artificial additives.

CEO of KABIRAFARM INC.
Masahiko Hashizume
Company Profile
---
Company Name

KABIRAFARM INC.

Location

1291-63, Kabira, Ishigaki-City




Okinawa, JAPAN 9070453

Tell

+81980882475

FAX

+81980882476

CEO

Masahiko Hashizume

Capital

3,000,000 yen

Founded date

1990.05

Established date

2013.04

Site area

25,000㎡




Processing Facility:240㎡




Sales Facility:70㎡

 Business

Beverage produce・Food produce・Retail sale

取引先

株式会社 沖縄県物産公社・株式会社 沖縄物産企業連合・国際物産株式会社

Products

Passion Fruit Products (Juices and Jams)




Other fruits products (Juices and Jams)

Related Facility

Ishigaki-Jima Science Garden(Pre-Open)

Associated Company

Southern Yui Farm inc. / Philippines
Getting Here
・40 minutes from the airport.
・30 minutes from the port.
・3 minutes drive from the KABIRA BAY parking area.
・5 minutes walk from the bus stop "ヨーン(Yo-n)"
(※Please make sure to check the bus schedule, there are only a few buses stop this bus stop. )
Company History
---